A file image of Ben Roberts-Smith along with barrister Arthur Moses (left) leaving the Federal Court of Australia in Sydney in March, 2022.Dan Himbrechts/AAP Image/ReutersBrisbane, AustraliaCNN —
Australia's most decorated soldier lost a multi-million dollar defamation case against three newspapers who accused him of committing war crimes in Afghanistan – including the murder of unarmed prisoners – as a judge ruled their reports met the standards of truth.
The ruling, delivered by Federal Court Justice Anthony Besanko on Thursday, brings a dramatic end to a long-running trial and delivers another blow to the reputation of the nation's military, already damaged by revelations that emerged during 100 days of testimony.
Besanko found Thursday that The Age, The Sydney Morning Herald, and The Canberra Times established substantial truth in a number of claims about Ben Roberts-Smith, but not all of them. In some cases, he found the papers established contextual truth, which is also a defense under Australia's Defamation Act. In others, he found that the papers had not established the truth.
In the most damning findings, Besanko said the papers had shown there was substantial truth to the allegation that Roberts-Smith, a former special forces soldier, murdered an unarmed Afghan civilian by kicking him off a cliff and ordering troops under his command to shoot him.
Besanko also found there was substantial truth to claims that Roberts-Smith shot dead a man with a prosthetic leg in Afghanistan with a machine gun, then took the prosthetic leg back to Australia and encouraged his soldiers to use it as a drinking vessel.
Elite Australian troops unlawfully killed 39 Afghan civilians amid a culture of 'blood lust,' report alleges
The finding of truth for the most serious allegations batters the already damaged reputation of Roberts-Smith, who was awarded Australia's highest medal for gallantry, the Victoria Cross, and was feted as a hero for his bravery and leadership.
His honors extended beyond the battlefield – in 2013 he was named "Father of the Year," posing for photos with his young family.
But that reputation began to fall apart after two veteran reporters investigated allegations that he and his SAS units committed war crimes while in Afghanistan.
The Age, The Sydney Morning Herald, and The Canberra Times had relied on a truth defense for a series of articles published in 2018 that painted the elite soldier as a bully and murderer who lied to protect his reputation.
The decision in favor of the papers is being celebrated by supporters of press freedom, who say it will harden the resolve of media companies to pursue high-cost investigative cases in a country with tough defamation laws.
Outside court, Nine's managing director of publishing James Chessell said the ruling was a vindication of the journalists and newsrooms who support public interest journalism.
"Most importantly, it is a vindication for the brave soldiers of the SAS who served their country with distinction, and then had the courage to speak the truth about what happened in Afghanistan," Chessell said.
The Age and The Sydney Morning Herald are published by Nine, a CNN affiliate. The Canberra Times published the same stories but has since changed ownership.
Peter Bartlett, a partner at law firm MinterEllison, who represented that papers and the journalists, said the result was a validation of the truth defense.
"Never has Australia seen a media defendant face such challenges from a plaintiff and his funders. This is an enormous and epic win for freedom of speech and the right for the public to know," he said in a statement.
Absent from court
Roberts-Smith, a former SAS soldier, wasn't in court to hear the verdict. The day before the ruling, local media published photos of him beside a pool in Bali, Indonesia.
Despite his absence, a large media contingent gathered at the Federal Court in Sydney to hear the verdict, which was broadcast from the court and aired live on national television.
The journalists behind the stories – Nick McKenzie and Chris Masters – are multi award-winning investigative reporters known for their rigorous attention to detail. After the ruling, McKenzie tweeted one word: "Justice."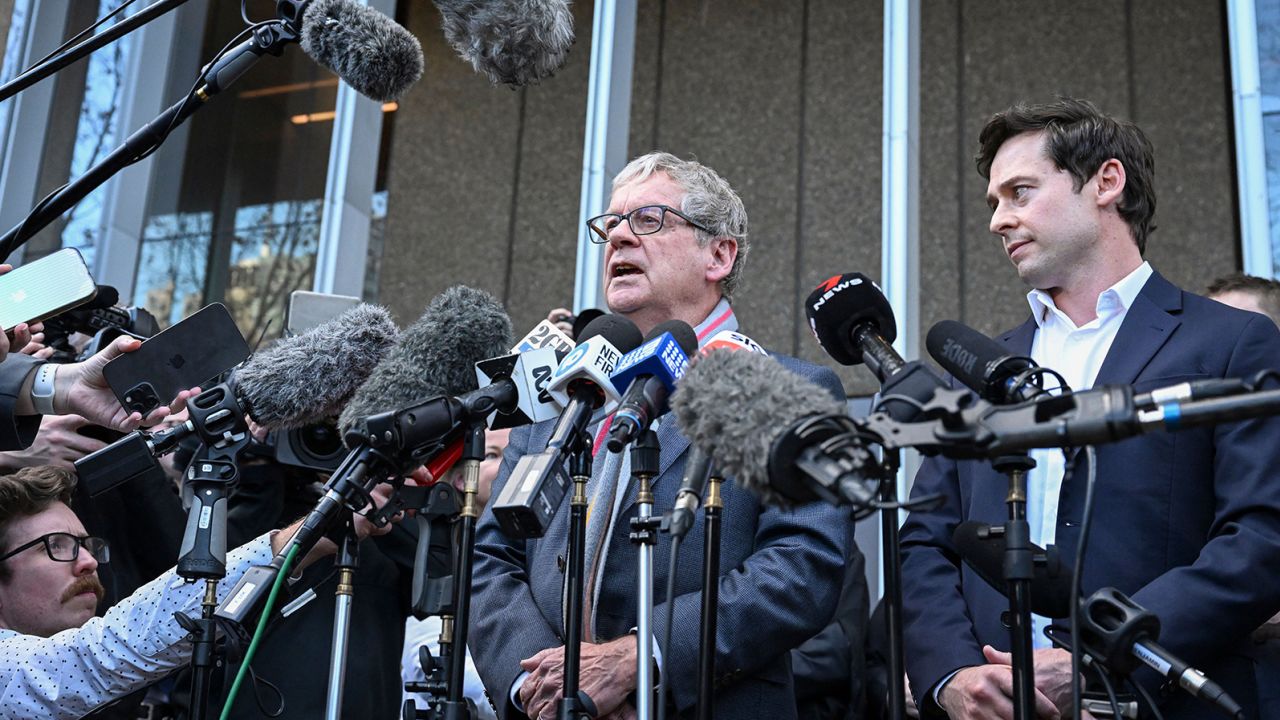 Journalists Chris Masters (L) and Nick McKenzie (R) talk to the media outside the Federal Court of Australia in Sydney on June 1, 2023. Ben Roberts-Smith, one of Australia's most decorated soldiers, lost a landmark defamation case against major newspapers on June 1 after a bruising trial that saw accusations of murder, domestic violence, witness intimidation and war crimes.Saeed Khan/AFP/Getty Images
Outside the court, Masters and McKenzie paid tribute to the people who came forward to testify against Roberts-Smith. They included Afghan villagers who were questioned on a live link to the court about murders they witnessed.
"Today is a day of some small justice for the Afghan victims of Ben Roberts-Smith," said McKenzie.
"Ali Jan was the man kicked off the cliff. Ali Jan was a father. Ali Jan was a husband … He was kicked off a cliff by Ben Roberts-Smith, and he was murdered with Ben Roberts-Smith's participation. There's some small justice for him."
Besanko said he would publish "lengthy" open court reasons for his findings and would provide a closed court version – some 50-pages long – to a more limited number of people due to national security reasons.
He said he would be asking the government to consider publishing the closed court report after redacting sensitive information.
Wider implications
Not only was this trial about the reputation of Roberts-Smith, the claims against him exposed the inner workings of Australian troops deployed to Afghanistan.
Serving and former elite troops were among those who gave evidence at the trial – some with their identities concealed but all giving rare insight into the culture on the battlefield.
Claims of violent acts committed by elite troops were echoed in the Brereton Report, a four-year investigation into the alleged war crimes in Afghanistan released in November 2020.
Report alleges unlawful killings of Afghan civilians by Australian elite troops (November 2020)
04:00 – Source: CNN
At the time, the Australian Defence Force Chief Gen. Angus Campbell said the report revealed a "warrior culture" among some members of Australia's special forces who had served in Afghanistan.
Campbell "sincerely and unreservedly" apologized to the people of Afghanistan for the conduct alleged in the report. "It would have devastated the lives of Afghan families and communities, causing immeasurable pain and suffering," he said.
It's not clear what will happen to the medals Roberts-Smith acquired for his military service – or if any charges will be laid.
Outside court Chessell, from Nine, said the stories will have a lasting impact on how Australian soldiers conduct themselves in Afghanistan.
"The story goes on beyond this judgment. We will continue to hold people involved in war crimes to account. The responsibility for these atrocities does not end with Ben Roberts-Smith," he said.